Chattanooga Choo Choo a Real Hoot
Well, Chattanooga sure was a blast again this year! 
With 29 boats, about double the typical turnout, it was as if all the stars aligned: Birmingham Sailing Club, one of the largest southern fleets outside of Florida, decided to start traveling and three or four boats came from there; Lynn and Bill Bruss from Chattanooga spent the winter racing in Florida, and so Mark and Michelle Taylor returned the favor, traveling up from Tampa for the weekend; Lake Keowee sent three boats; and the Midwest District continued to support the event with five boats from Madison, Carlyle and Clinton.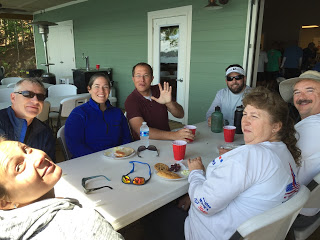 Part of the Midwest crew ~ from left, Stacey Rieu, Ryan Malmgren, Rachel and Bronson Bowling, Eric Bussell, Linda and Gregg Vitt
Pretty darn awesome!
PLUS, two new boats made their debut at the event. Lynn and Bruce Kitchen from Cowan Lake, Ohio, brought their Ohio-State-red, brand-new boat, Kitchen Sink III, and Chattanooga Fleet Captain Rob Fowler took delivery of his lovely gray and white, brand-new boat (with bright orange, Tennessee spinnaker!) the evening before the event. Harry Carpenter not only brought the boat down but sailed with Rob for the regatta.
And we had fabulous weather. Plenty of wind on Saturday allowed us to get three races in. There were many hard-fought contests: at the end of the day the top three boats (Mark and Michelle Taylor, Harry Carpenter and Rob Fowler, and Richard Wade and Jim Leonard) were separated by three points. Deeper into the fleet there were numerous clusters of equally close contests. 
Saturday night, in addition to a delicious dinner (thank you to Linda Lind and her tireless crew of kitchen elves) we had a corn hole/bean bag contest. 
 Lo and behold, it turns out the Midwest District had a ringer in its midst! John Cassada, who had never played before, was, in any case, an experienced horseshoe player. Once he got the rules down (not all that complicated, of course!), he and Eric Bussell took the day, beating outAdam and Peyton 21-0 in the final round. I gather John's steady consistency and Eric's occasional flash of brilliance carried the day. This was particularly amazing considering most rounds were taking 30 minutes or more and John and Eric dispatched their rivals in about 5 minutes!!
Sunday brought much lighter winds, but we still managed to get one race in before it died. Race committee did a masterful job, planning a five-leg WL course and quickly adjusting, with a shortened second windward leg and finish leaving all sailors, no matter where they placed breathing a sigh of relief. The standings definitely got scrambled some, with some strong finishes from deeper in the fleet (I'm looking at you, Sandy Eustis!).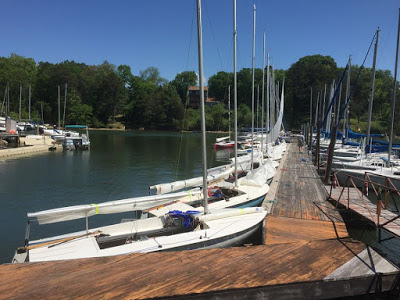 29 boats pretty much filled up the Privateer docks. But there will always be room for one more...You may have missed this year, but put Choo Choo on your racing calendar for next year.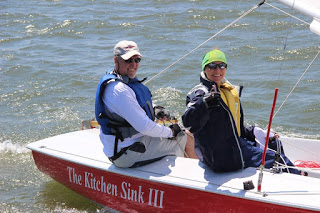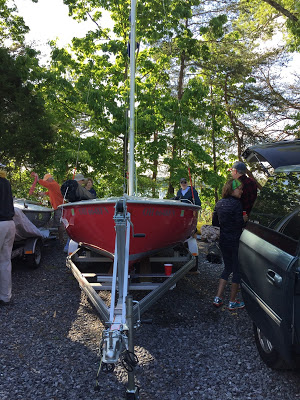 Bruce and Lynn Kitchen, and others, admiring their new boat, Kitchen Sink III