FSSA Executives and Board of Governors
The Flying Scot Sailing Association governing body consists of:
Executive Officers - President, First Vice President. Second Vice President, Secretary/Treasurer, Chief Measurer, Scots n' Water Editor and Web Editor
Executive Committee - Includes Executive Officers and the Commodore, Immediate Past Commodore, Chair of the Amendments Committee, Chair of the National Championship Committee. Parliamentarian, and Executive Secretary
Board of Governors - Includes Executive Committee, the Past Presidents of FSSA, and the District Governors​
Click on the Organizational Chart to see all officers and committee chairs.
These are the current members of the FSSA Executive Committee and District Governors.  Please e-mail any of these members by scrolling to that person's entry below clicking on their name.
PRESIDENT - Jim Leggette
Jim Leggette began sailing Flying Scots at age eleven when his Dad purchased Circe, FS 1518, which is frequently seen at the Midwinter and North American championships currently.  As best we can tell, his boat is likely the only one which has been sailed continuously by the same person either as skipper or crew since 1969.He has served
as Captain of Fleet 45, the Jackson Yacht Club outside Jackson Mississippi.   In 2018, Jim chaired the Wife-Husband regatta held at the Jackson Yacht Club.  He is also a Past Commodore of the Jackson Yacht Club.  Jim has been captain of Fleet 162 based at the Toms River Yacht Club on the Jersey Shore. 
To support, his sailing habit, Jim currently teaches economics at Mississippi State University.  Prior to that he held various management positions in the area of strategic pricing and business planning.  When not thinking of sailing, he enjoys history especially World War Two) and cheering the Tarheel basketball team on to victory.
He currently hails from Starkville, Mississippi where he lives with his wife, Michelle Amos.
FIRST VICE PRESIDENT - Nina Cummings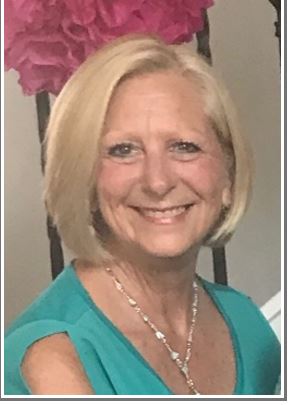 Nina Cummings has been crewing for her husband, Robert since 2010 and continues to travel far and wide to as many regattas as they can each year and get together with their Flying Scot friends. Nina is learning to skipper and has competed in the Women's NAC since 2017. They are members of Corinthian Sailing Club in Dallas, Texas, where she has worked with the awesome members of Fleet 23 to host three Flying Scot Nationally Sanctioned regattas, Annual SW District Circuit regattas and our Annual Open House Regatta.  When they are not traveling Nina crews weekly with Robert at White Rock Lake and is on the helm for Women on the Water activities.
Nina retired from her love of teaching in 2015, although she is still active with the District. She has been Fleet Captain for several years and stepped down in 2019 to join the FSSA Executive Board as Treasurer/Secretary and is currently the 2nd Vice President.  Robert owns Cummings Marine and has built or repaired everything from sails to boats in his 40 years in the industry. He was elected as the Southwest District Governor in 2012.
When Nina and Robert aren't involved in Flying Scot activities, they spend as much time as possible with Blake, his wife Priya and our fabulous grand-girls, Leona and Sophie.
SECOND VICE PRESIDENT - Bruce Kitchen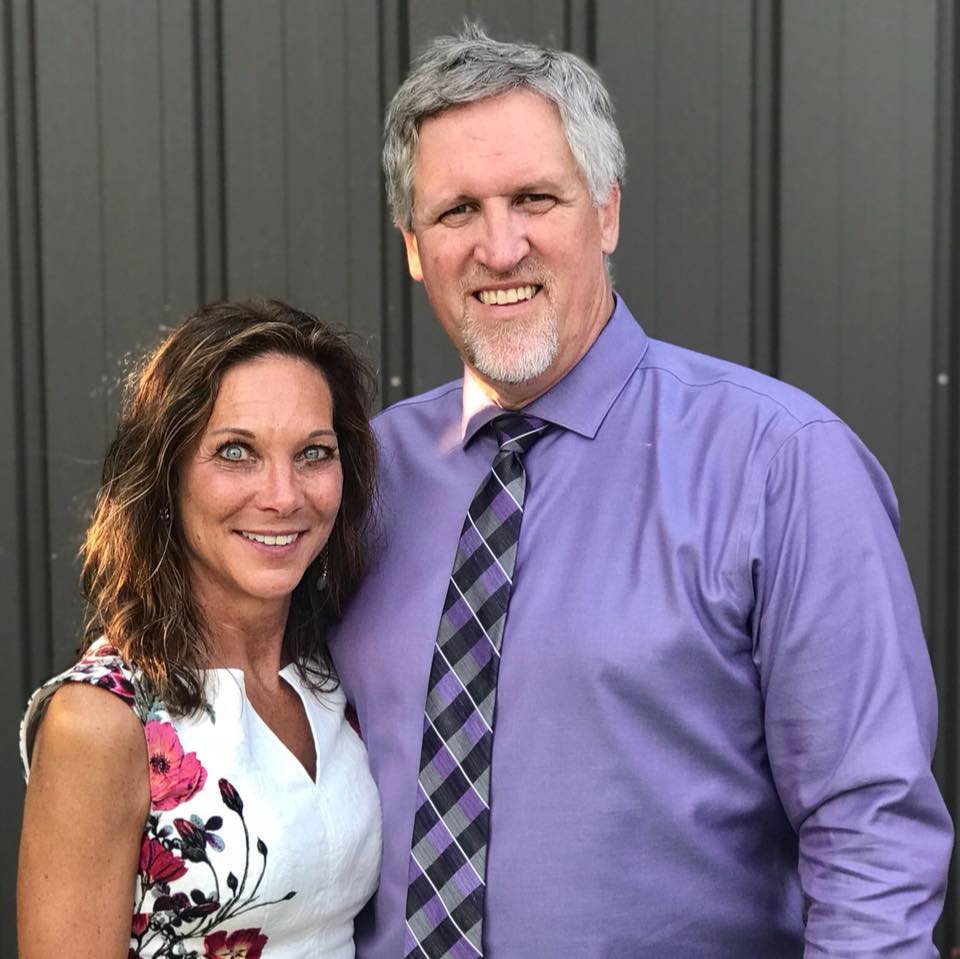 Bruce Kitchen is from Maineville, OH, and sails with his wife Lynn at Cowan Lake Sailing Club, He has been active in the Flying Scot class for many years. 
TREASURER/SECRETARY - Jim Colegrove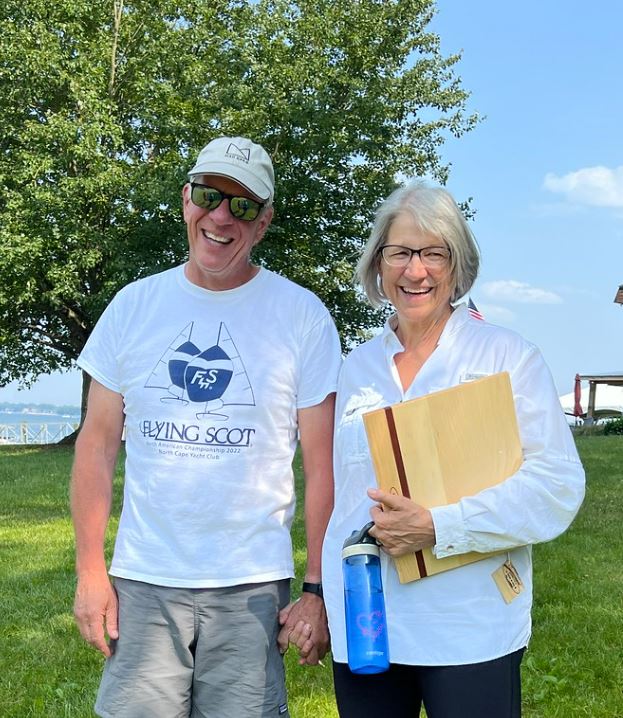 Jim Colegrove lives on Rock Lake in Lake Mills just east of Madison Wisconsin. He has been sailing since he was 5 years old when his dad started him in Penguins as crew, ballast really. His love of the sport continued to grow through the years. He raced Int. 505's for 10 years back in the 80's before moving to Wisconsin in 1990 as a carbon fiber manufacturing engineer for Trek Bicycles. He and wife Jennifer purchased their first Scot in 2017 and have been traveling and racing together as a shared activity in retirement. Jim is currently the Midwest District Governor working to keep Scot sailing strong in the area. He is also the chair of the wind limits (Race Committee Guidelines) subcommittee, leading a team to improve communication between the Race Committee and competitors crafting guidelines that convey and give clear direction based on class expectations. He looks forward to working on improving our class as a whole by reducing or eliminating barriers and finding ways to add value through FSSA membership. He is excited and honored to be elected to the executive board.
COMMODORE - Nancy Claypool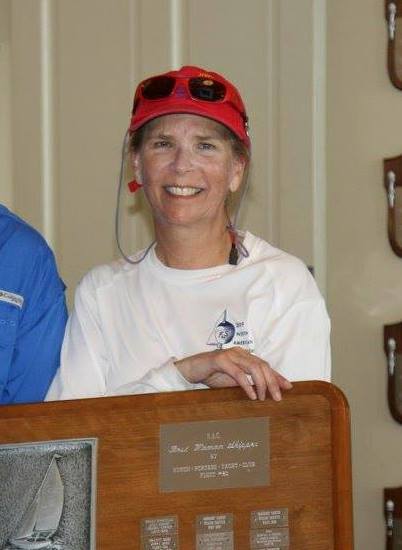 Nancy Claypool is from New Orleans.  Nancy is a second generation President of FSSA as her father is a past President. 
IMMEDIAtE PAST COMMODORE - Bill Dunham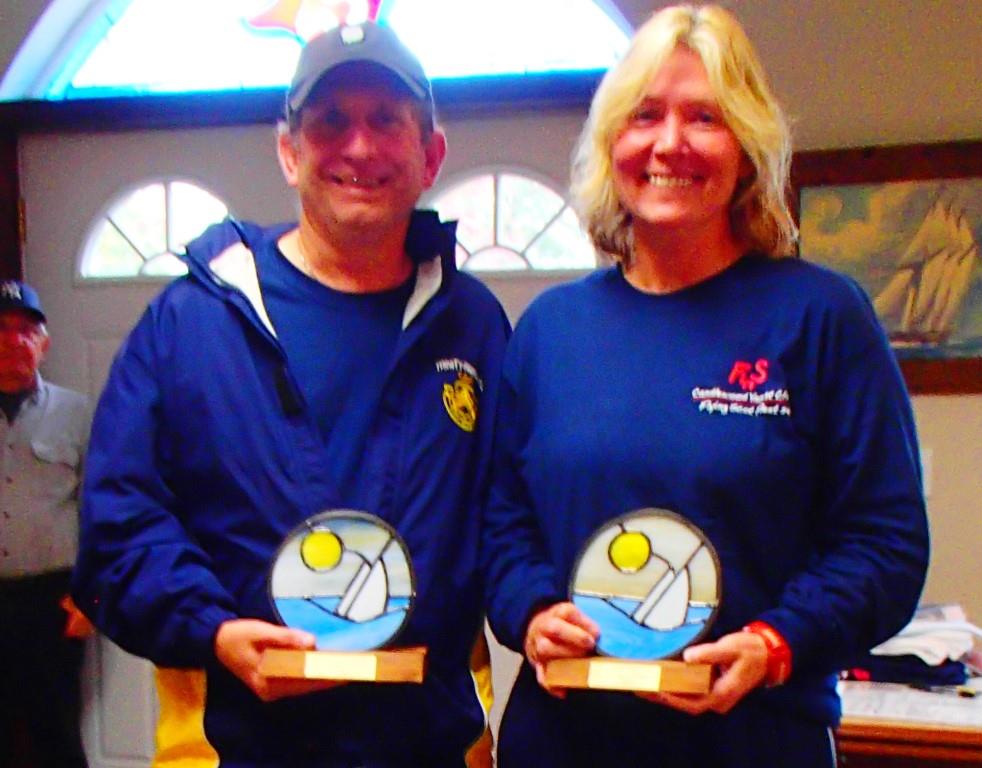 Bill Dunham is from Pawling, New York and Swanton, MD. He sails with his wife Melanie and they have a daughter Courtney who has sailed with them too.
IWEB EDITOR - Diane Kampf
Diane Kampf has been sailing as crew since for her husband and skipper, Greg Kampf, at Lake Massapoag in Sharon, MA, where she and Greg are Life Members. Greg and Diane are both IT professionals - Greg is retired from the University of Massachusetts and Diane is retired from BJs Wholesale Club after 40+ years in the business. While Greg has been sailing since he was a young boy, Diane got the bug in 1996 after their first trip to a NAC and they have been traveling to regattas ever since. Diane is twice Commodore of Massapoag Yacht Club in Sharon, MA, and is currently Secretary, Web Editor, as well as Regatta Chairperson. When Diane's not sailing, she spends time with her her daughter and son-in law Kassandra and Brian and their children AJ and Kaitlyn.
FSSA CHIEF MEASURER - Roger J. Sharp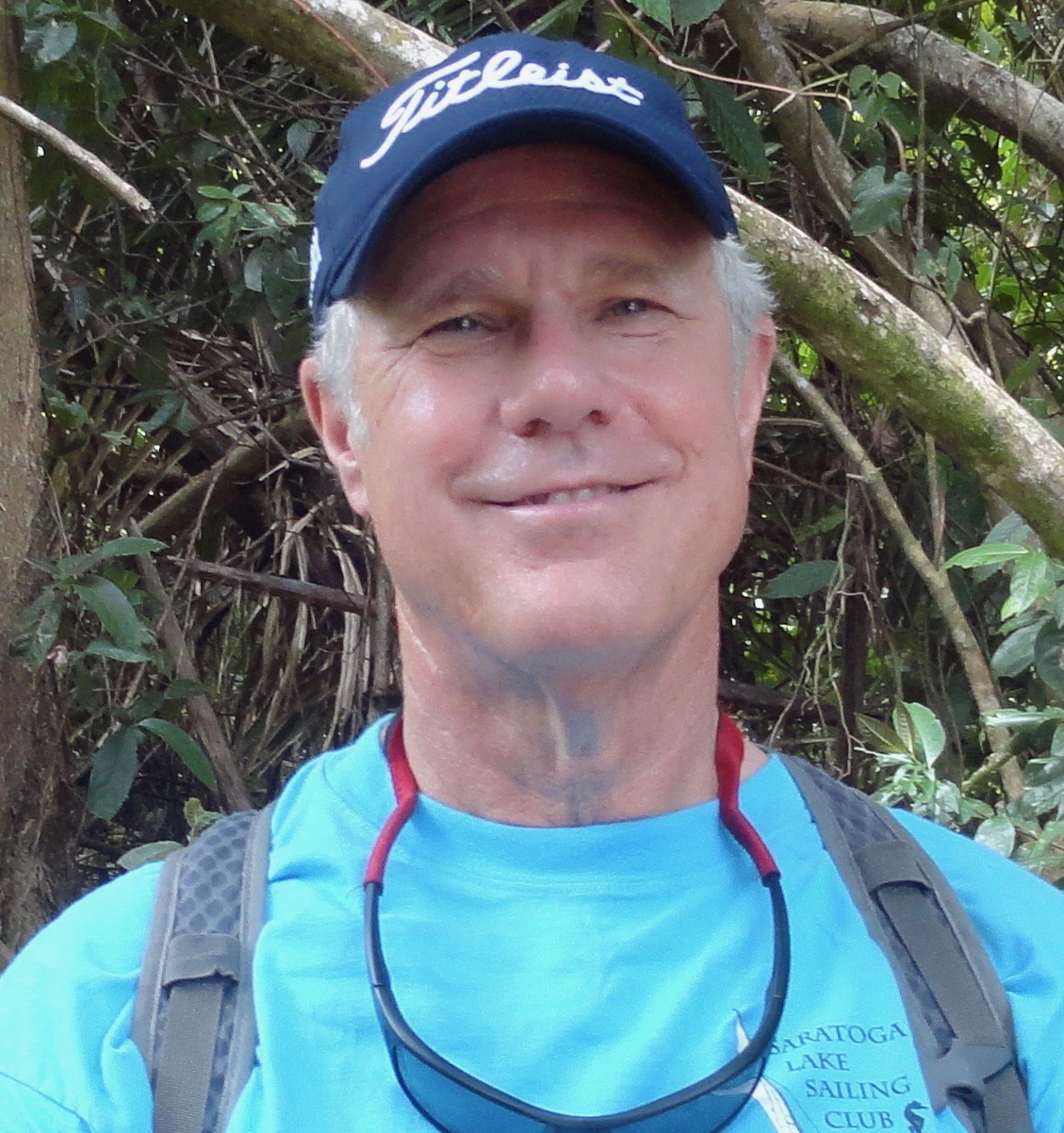 Roger Sharp has always been around boats, sailboats primarily.  His parents took him on their cruising sailboat when he was just six months old.  They spent summers sailing on Long Island Sound until Roger went to college at SUNY Maritime to study shipboard engineering and naval architecture.  At Maritime he picked up racing, mostly on one design keel boats and offshore.  After college Roger has raced Lasers, Stars, some match racing and volunteering as a US Sailing Senior Judge.  Now he mainly races the Flying Scot with either his wife, Kate or their daughter, Laura.  They've done many of the sanctioned events and nearly all of the New England District Championships since joining the Class and Massapoag YC, Fleet 76 in 2003. 
Roger is retired after 40 years as an Account Engineer providing loss prevention engineering advice to customers globally.
EDITOR, SCOTS n' WATER -  Tim Mallette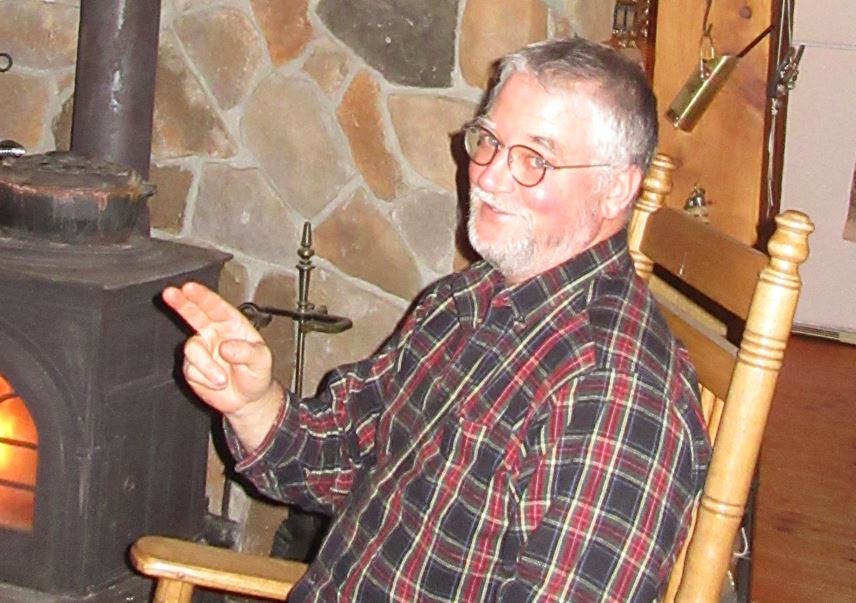 Timothy Story Mallette is a sailor, a civil engineer (PE), and a land surveyor (PLS). His formative years were at sea in the merchant marine and in the deep woods. He was fortunate to have many good mentors. He is well read, holds a BS in engineering, and he is an independent learner. The second and third oldest professions have been good to him. His forte is hydrology and hydraulics, and he enjoys designing civil projects with colleagues. Tim and his wife, Avis, live on a farm in New Hampshire that they placed into conservation. They still talk to each other, most of the time, after 25+ years together. He finds it rewarding to serve associations, clubs, and committees. Most recently as Past President of the New Hampshire Land Surveyors Association (NHLSA) & Rear Commodore of the Massabesic Yacht Club (MYC).
AMENDMENT COMMITTEE CHAIR - Carol Claypool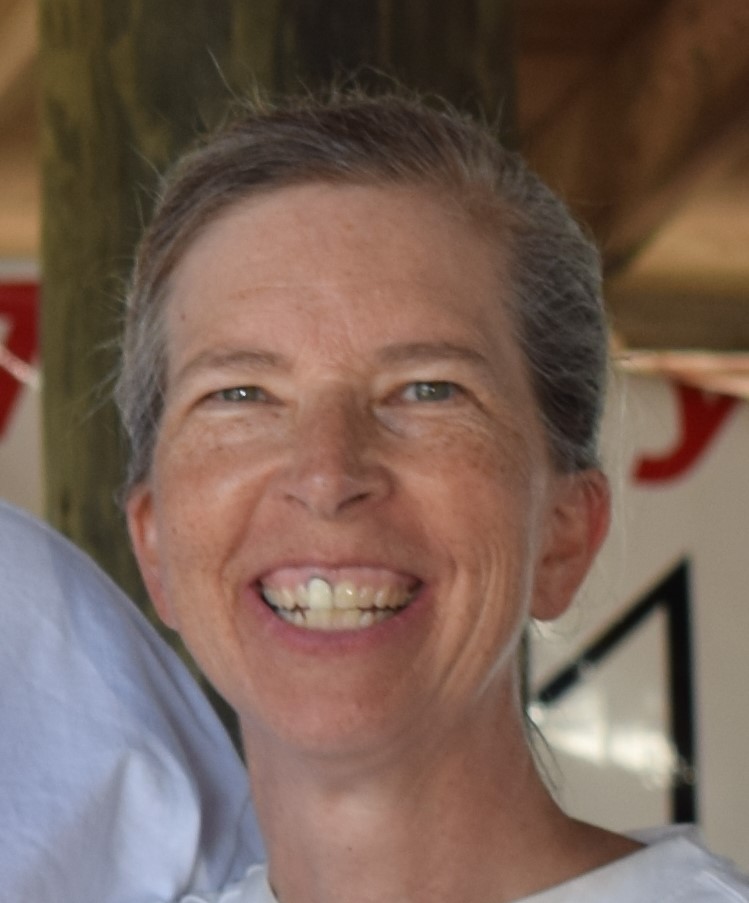 Carol Claypool is FSSA Amendments Committee Chaorperson and is a member of Lake Norman Yacht Club in NC.
PARLIAMENTARIAN - Larry Taggart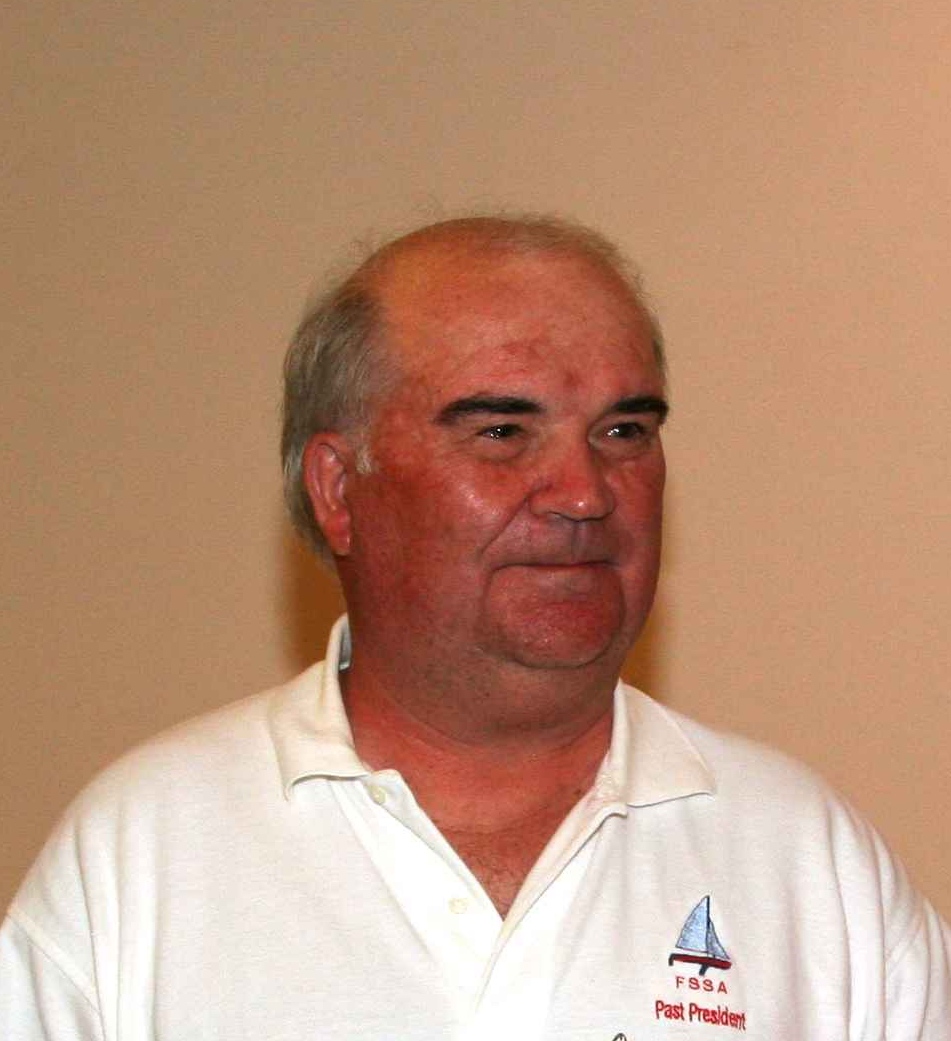 Larry Taggart first began his involvement with Flying Scots in 1969 in New Orleans when they were first adopted as the inter club boat of the Gulf Yachting Association. After sailing club-owned boats for several years he purchased his first boat in 1975. He has served the FSSA in many positions, including Fleet Captain, District Governor, Measurer and President. He is currently the Gulf District Governor, serves on the Executive Committee as Parliamentarian, is also a member of the Measurement Committee and National Championships Committee, and chairs the Nominating Committee.  Larry is an Honorary Life Member of his home club -- Southern Yacht Club -- and supports sailing there in many ways. He has also served as Commodore of the Gulf Yachting Association (GYA) and remains chair of their Racing Rules Committee. In addition, he has served at one time or another as GYA Scorer, Sail Measurer, and Appeals Committee Member. He is a former Senior Judge. For ten years he was also a Sea Explorer, BSA, leader heading a Scout group specializing in sailing and racing, including 10 sailing cruises to the Bahamas from Florida. In "real life" Larry is retired senior vice president if a medium sized non-profit in New Orleans.
NATIONAL CHAMPIONSHIP COMMITTEE CHAIR - Steve Comen
EXECUTIVE SECRETARY - Courtney Waldrup
Courtney Waldrup is the FSSA Executive Secretary. She began working at J. Edgar Eubanks, FSSA's management company, in 1995 and officially became the class secretary in 2005.  In 2021 she opened a new Association Management Company, Premier Management Partners, LLC and continues to be the class secretary.  She graduated from the University of South Carolina with a Bachelor of Arts degree in Philosophy. She and her husband have two boys and enjoy outside activities and sports.
DESIGNER (October 22, 1904 - February 12, 1992)  - Gordon K. "Sandy" Douglass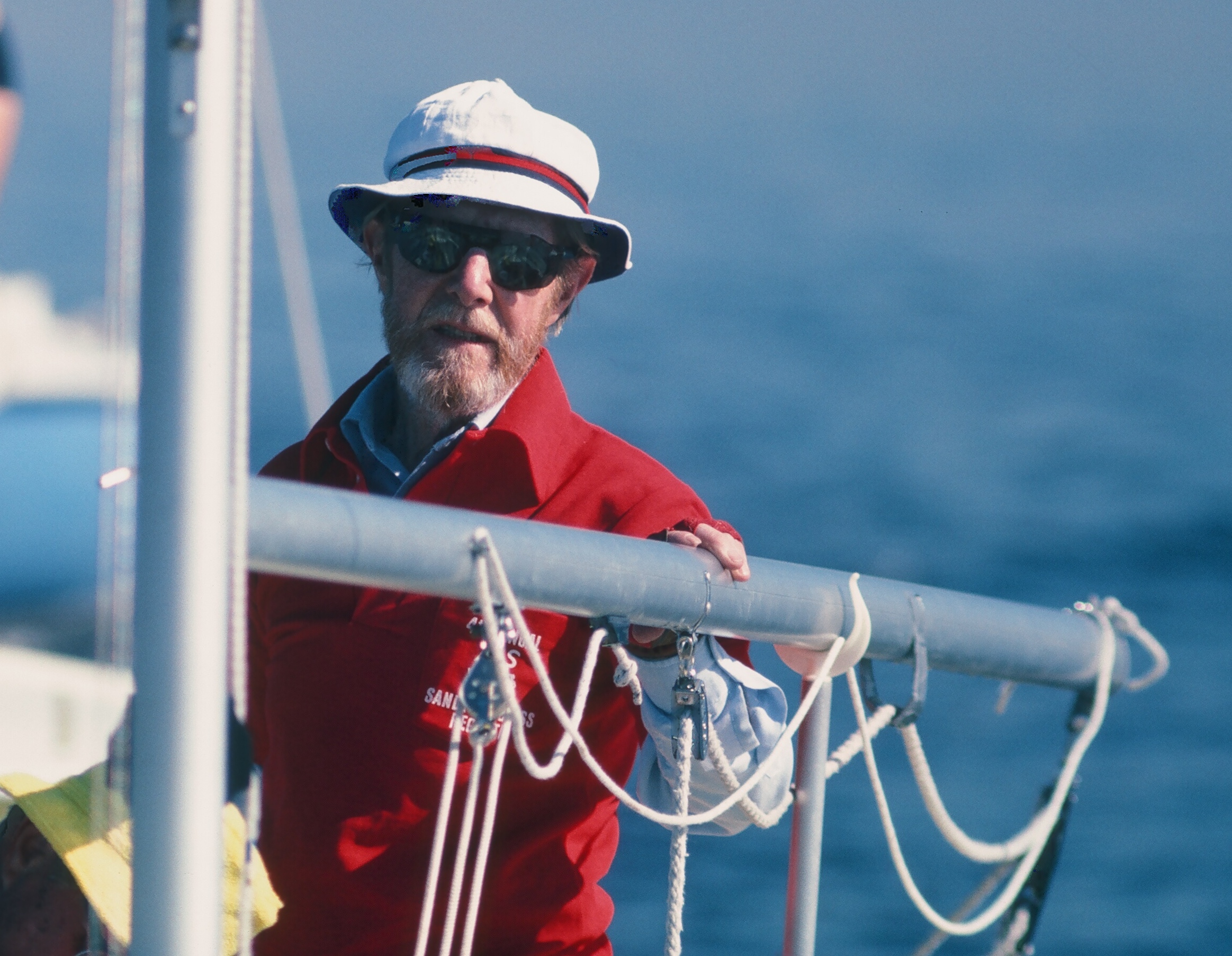 Our Flying Scot Designer, Sandy Douglass, was a racer, designer, and builder of sailing dinghies. Two of his designs, the Thistle and the Flying Scot, are among the most popular on design Racing Classes in the United States. The Flying Scot was inducted into the American Sailboat Hall of Fame. As a small boat racer, Douglass was five times the North American champion in the 10 Square Meter International Sailing Canoe, five times the United States national champion in the Thistle, and seven times the Flying Scot North American champion. 
OUR BUILDERS - Harry Carpeter, Tyler Andrews and Carrie Andrews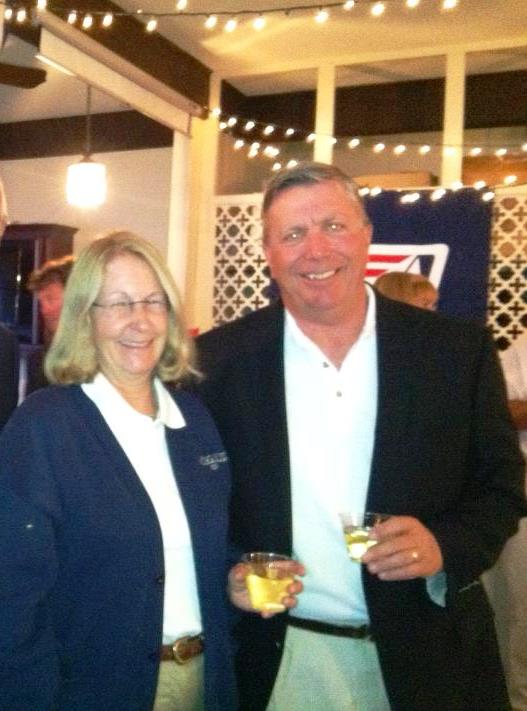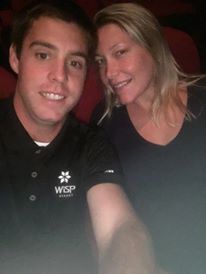 Harry Carpenter is President of Flying Scot Inc. He, his wife, Karen, and daughter and son-in-law Carrie and Tyler Andrews, are dedicated to building the best day sailer in the world. We are lucky to count Harry among our FSSA Life Members, and Harry, Tyler and Carrie are active racers and members of our Board of Governors. Please see the Flying Scot website for more information about the company and our builder.
DISTRICT GOVERNORS: 
Capital #4 - District Governor  David Beckett
Carolina #8 - District Governor Dave Safirstein
Dixie Lakes #49 - District Governor Bob Graves
Florida #43 - District Governor Henry Picco
Greater New York #12 - District Governor Mark Riefenhauser
Gulf #16 - District Governor Larry Taggart
Michigan-Ontario #20 - District Governor Larry Breskin
Midwest #24 – District Governor Jim Crabtree
New England #28 - District Governor Tim Mallette
New York Lakes #29 - District Governor Mark Fiorini
Ohio #32 - District Governor Martha Sweterlitsch
Pacific #36 - District Governor Dale Dunning
Prairie #40 -  District Governor Jim Slaughter 
Southwest #41 - District Governor Robert Cummings