Dixie Lakes
Dixie Lakes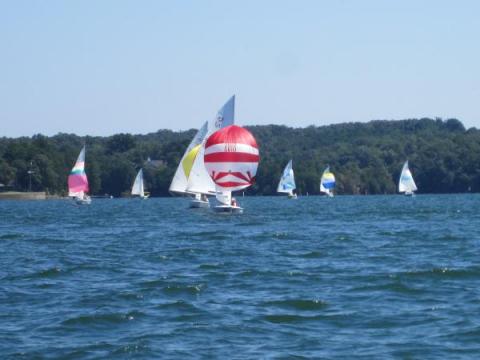 The Dixie Lakes District encompasses several fleets in the South that are not on the Atlantic or Gulf Coasts, and span Tennessee, Georgia, Alabama and South Carolina.
In Georgia we have Lake Lanier in Atlanta. In Tennessee we have Privateer Yacht Club in Hixson. In South Carolina we have Western Carolina Sail Club in Anderson and Keowee Sailing Club in Seneca. In Alabama we have North Central Alabama in Birmingham, Mussel Shoals Sailing Club in Lauderdale and Brown's Creek Sailing Association in Guntersville.
The District Governor is Andy Fox.
The District has a Facebook group here.
We weren't sure if we were at the Midwinters or the Wife-Husband today at Lake Joe Wheeler in Rogersville, AL. But in fact it was the Wife-Husbands, hosted by the Privateer and Muscle Shoals fleets. Many couples went out wearing winter caps and everyone had several layers of clothing to be prepared for to low 50's, the cloudy weather and the wind. With shifty 10-14 knots winds, we finished all 3 scheduled races today, and despite the fact we were told that the water was much... Read More
*** WIFE HUSBAND TEAMS *** Don't forget the wife-Husband Regatta coming up on 10/6 - 10/7/2012 hosted by Privateer and Muscle Shoals Scot Fleets at Lake Joe Wheeler in Huntsville, Alabama. Look under Upcoming Events for details about the event.
Pages