Flying Scot 2021 NAC at Cedar Point YC, Westport, CT - Awards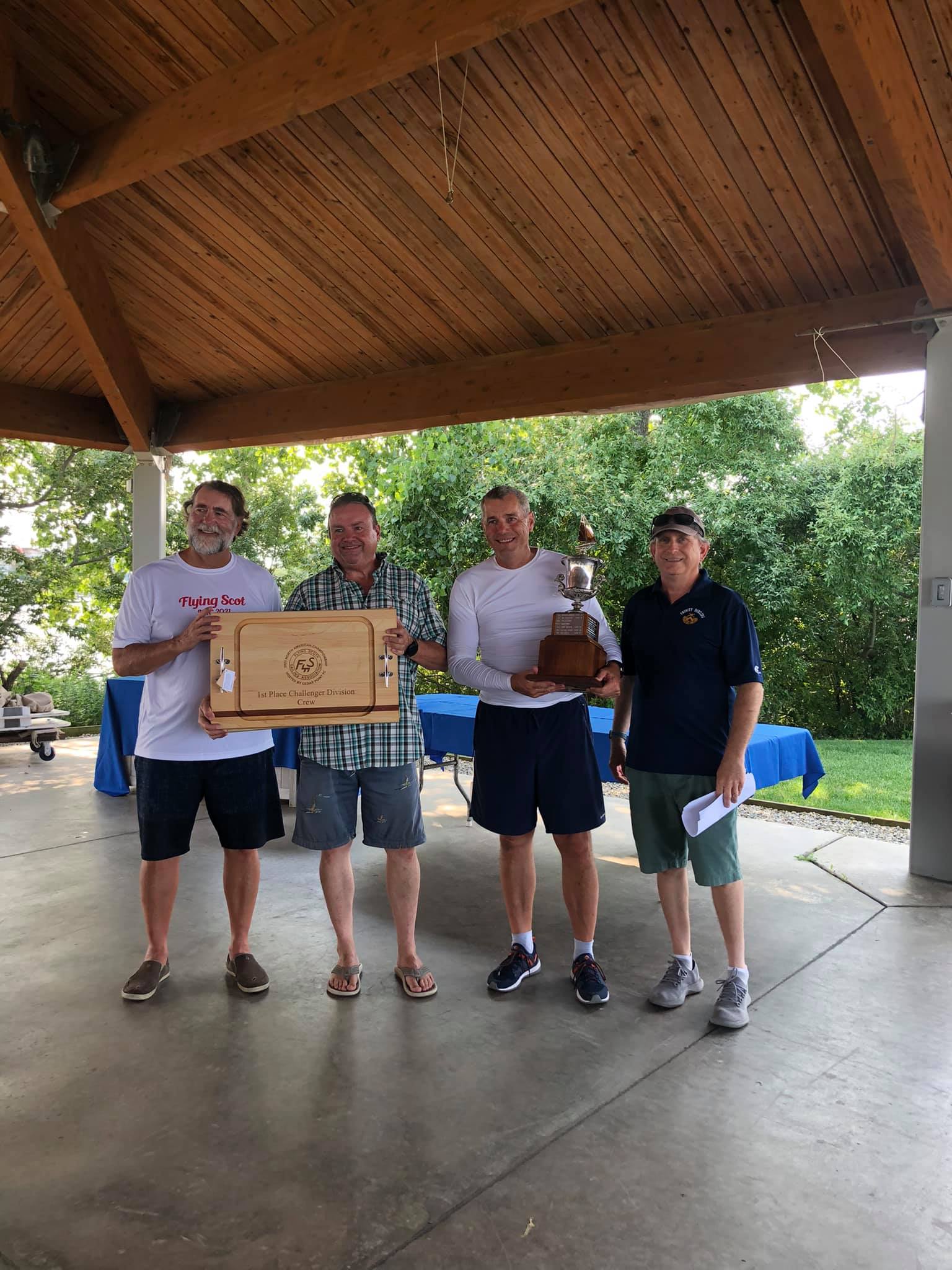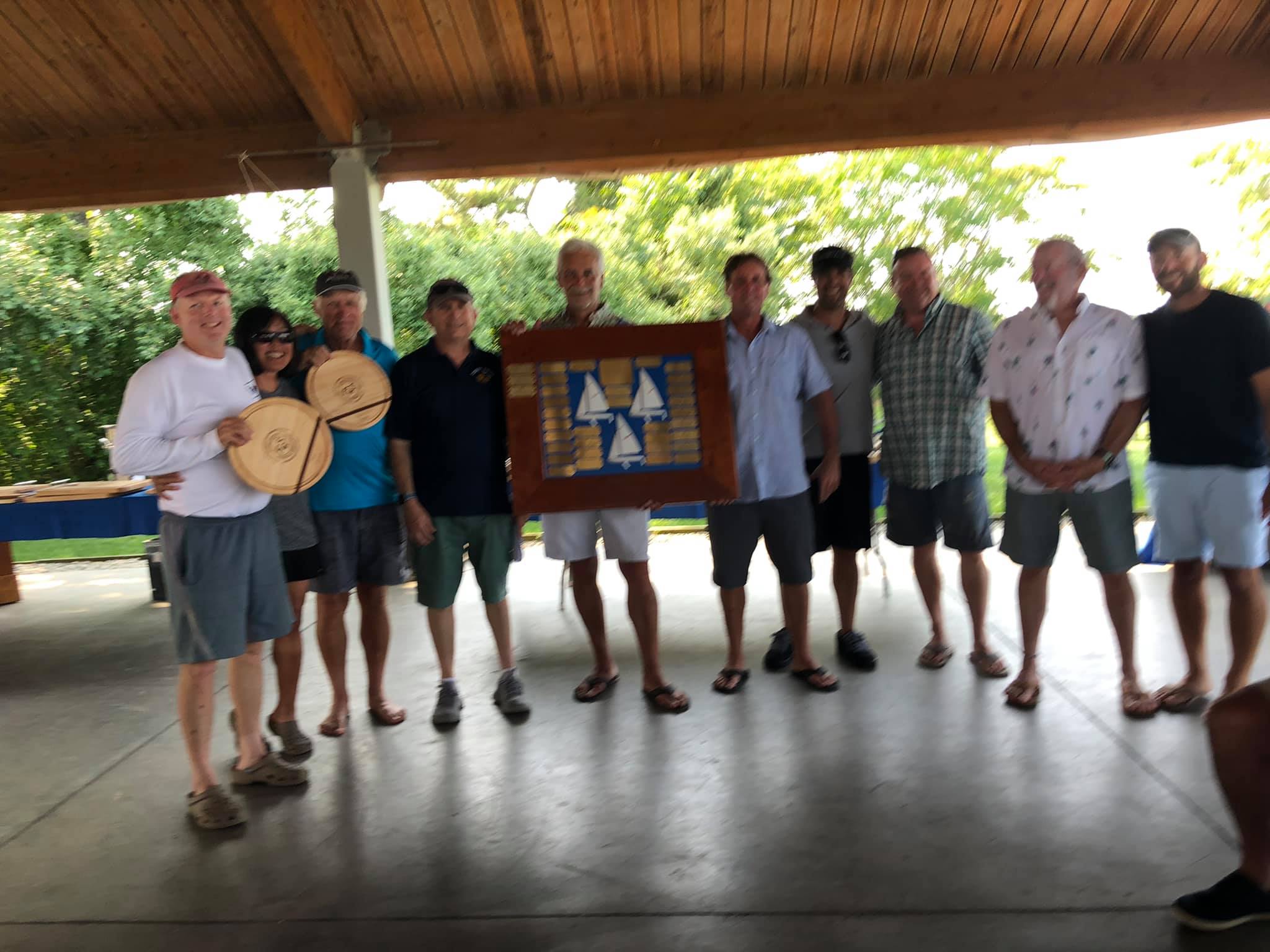 The NAC at Cedar Point Yacht Club in Westport, CtT, is in the books and from all accounts it was a great time.  Thanks so much to Cedar Point, Sprite Island Yacht Club and Candlewood Yacht club for a wonderful event.
The Race Management by Dick Thackaberry and crew was superb, and with very challenging conditions for the Race Committee and the competitirs, they managed to get 4 races completed. In the finals we had 15-20 MPH winds from the east on Tuesday and light air from the SSE Wednesday and outh on Thursday. Places changed several times with some teams great in heavy air and some teams better in light air. IF you did well in both, good for you! 
The onshore activities by John Cooke and Robin Hoffman and crews was just so much fun!  From easy checkin and measurement, to the band, the food and a well-organized awards ceremony, everything was just so well done. Oh the food - we had  pizza, gelato, beer, lobstah and all he fixings, with steak, chicken and vegan options for the non seafood eaters, the food counter that had loads of great food for breakfast and lunch, and then pasta on the last day. There was always plenty of beverages readily available. And the chalk talks by North Sails Zeke Horowitz and Brian Hayes, the talk by Mad Sails Daivd Ames, and the Crew talk by Any Lintona nd Brian Hayes were invaluable to some of the success the sailor s had. But really, most important of all was the cameraderie and all the fun we all had.
Photos from the first 2 days are here, courtey of Art Petrosemolo https://nauticalphotography.smugmug.com/Sailing-Regattas/Flying-Scot-Class/2021-Flying-Scot-NAC/Competitors-Photos
We hope to come back here again for a Flying Scot event. Here are all the Trophy winners congrats to all:
2021 Flying Scot North American Championship - Cedar Point Yacht Club, Westport, CT - Trophy Winners
Best Sailed Club-Owned Boat
Detroit Yacht Club Cup – Awarded to the best sailed club-owned boat.
Not awarded in 2021
Best Sailed Challenger Boat with Woman on Board

Nancy Roman Trophy – Awarded to the highest finisher with a woman on board, either skipper or crew, in the Challenger Division.

Kristen Weeder, Yacht Club of Stone Harbor, Stone Harbor, NJ
Best Sailed Boat with Woman Skipper
Huron-Portage Yacht Club Fleet 20 Trophy – Awarded to Highest Placing Woman Skipper.
Laurie Delbene, Cedar Point Yacht Club, Westport, CT
Best Sailed Boat with only Wife/Husband on Board
Ted and Florence Glass Trophy – to honor the best sailed Scot with only a wife and husband on board.
Jeff and Amy Linton, David Island Yacht Club, Tampa, FL
Best Sailed Father-Son Boat
Father/Son Trophy – Awarded to the best sailed boat with a father and son on board, with one as a skipper.
Zeke and Jay Horowitz, Sarasota Sailing Squadron, Sarasota, FL and Annapolis Yacht Club
Best Family Sailed Boat
Mary Douglas Trophy – Awarded to the best family sailed boat with at least one woman on board.
Roger and Kate Sharp, Massapoag Yacht Club, Sharon, MA
Best Fleet in NAC
Fleet 1 Trophy – Awarded to the best fleet in the NAC.
Sarasota Sailing Squadron
For the following winners
David Ames and PJ Bhuler
Zeke and Jay Horowitz
Michael and Jennifer Faugust
Furthest Distance Travelled
Travelers trophy
Fred Soward and Oliver Byington, LCYC
Best Finishing Skipper – Age 55 and Over
Master Trophy
Jeff and Amy Linton, David Island Yacht Club, Tampa, FL
Senior Championship – Skipper and crew both Age 60 or Over
Silver Piper Bowl
1st - Roger and Kate Sharp, 2nd - Jody Smith and Annette Johnson, 3rd - Dan Walsh and Randy Swartley
Women's NAC Champion
Joan Burnside Trophy - Awarded to the highest placing skipper in the Women's NAC
Was awarded at the Women's NAC to Greta Mittman
Junior NAC Champion
Fleet 76 Trophy - Awarded to the highest placing skipper in the Junion NAC
Not sailed in 2021
Fleet of the Year
FSSA - Awarded to the Most Active Fleet 
No fleet submitted a nomination due to lack of activity during COVID-19
CHALLENGER DIVISON
5th Place
Greg and Diane Kampf, Massapoag Yacht Club, Sharon, MA
 
4th Place
Tim and Linda Gordon, Sprite Island Yacht Club, Norwalk, CY
 
3rd Place - Terry Schroeder Trophy
Kristian and Kristen Weeder, Yacht Club of Stone Harbor, NJ
 
2nd Place - Sam Tellschow Memorial Trophy
Ted Gutman and David Blum, Hampstead Bay Sailing Club, Island Park, NY
 
1st Place - Max and Mary Doolittle Trophy
Phil Sheetz and Richard Baucom, Nockamixon Sail Club, Telford, PA
 
 
 
CHAMPIONSHIP DIVISION
5th Place
Brian Hayes and Monica Morgam, Housatonic Bot Club, Stratford, CT
 
4th Place - Ratsey & Lapthom Trophy
Roger and Kate Sharp, Massapoag Yacht Club, Sharon, MA
 
3rd Place - GL Foster Trophy
Zeke and Jay Horowitz, Sarasota Sailing Squadron, Sarasota, FL and Annapolis Yacht Club
 
2nd Place - Tea Party Trophy
Jeff and Amy Linton, Davis Island Yacht Club, Tampa, FL
 
1st Place - Gordon K. Douglass Trophy
David Ames and PJ Bhuler, Sarasota Sailing Squadron, Sarasota, FL