2021 Cruising in Northern Vermont!
Title:
2021 Cruising in Northern Vermont!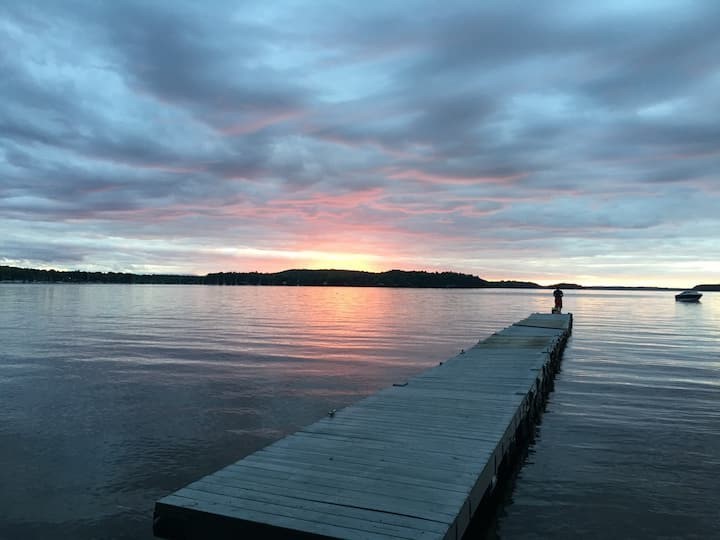 Date:
Sunday, September 12, 2021

to

Tuesday, September 21, 2021
Scot Sailors. Here's our second offering for cruising with your Scot this year. Let's go sail our Scots in the beautiful northeast. Come sailing with us and take in the beautiful scenery on Lake Champlain near Burlington, Vermont. Lake Champlain is the sixth largest lake in the United States. There's a local saying, "It's a great lake, even though it's not a Great Lake."
We are going cruising with our Flying Scots September 12-19, 2021 and you are invited. Our base will be Champ's Camp, which is right on the water with the dock pictured above.  
We will be sailing Mallet's Bay and venturing further out into Lake Champlain. This camp is right on the water where we can tie up all our Scots at their dock.
A sample itinerary might look something like this, depending on the weather and wind forecast:
Sunday: There is a launch ramp nearby, from which we can sail to the camp. Arrive at the camp after 2 p.m.
We will let the weather help us decide what the agenda is during the week.
Monday - Friday possibilities: 
Sailing, of course, sailing. That's the main point of this trip, isn't it? See the attached brochure. We will have charts of the water available as well. By group consensus, we may trailer the boats to another location on the lake.
Hiking: There are lots of great hikes in the area. https://www.alltrails.com/us/vermont
Biking: There's a four-mile causeway that takes bikers across Lake Champlain to South Hero. Bike rentals available. 
Food and Nightlife: Burlington is a short drive away from where we're staying.
Saturday: Last day of sailing, back to the launch ramp by evening so we can check out on Sunday morning.
Cost: Champ's Camp is $1,638.66 divided among the guests staying there. There are accommodations for 8 guests. Sleeping arrangements will be determined when people sign up. https://www.airbnb.com/rooms/18649166?federated_search_id=0040fab7-7b7e-4b59-b060-18cb3ef0ab0b&source_impression_id=p3_1618589825_ZTAHPzPS6mDzsgnP&guests=1&adults=1
If more people sign up, we'll find nearby accommodations and adjust costs accordingly. We'll figure food out as a group.
The organizers will continue to monitor Vermont COVID-19 restrictions.
Contact for Further Details and to Reserve Your Spot:
Jan Reimers: jan.reimers@charter.net, (603) 345-7507
Tim Mallette: crestofthewave@outlook.com, (603) 244-8844