2021 Cruising in Northern Michigan!
Title:
2021 Cruising in Northern Michigan!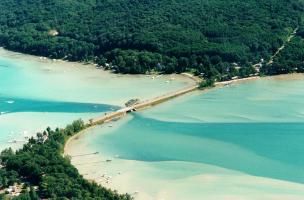 Date:
Friday, September 3, 2021

to

Friday, September 10, 2021
Let's go sail our Scots in beautiful Caribbean blue and turquoise waters. I know, we can't leave the states just yet, so let's venture north! That's right, north to northern Michigan, land of clear lakes, sand bar swimming and great scenery. 
We are going cruising with our Scot(s) in early September 2021 and you are invited. Our base will be on Glen Lake, near the Leelanau Peninsula, one of several, ultra-clear and beautiful lakes in northern Michigan. You may have heard of some of the other lakes nearby such as Torch (once named by National Geographic as the "third most beautiful lake in the world") or possibly Elk and Crystal. Lake Michigan is less than a mile to the west and Traverse City is 15 minutes to the east.
The Plan:
We will stay on Glen Lake and rent a house there. We will be staying on the water so that you can leave your boat in the water for a few days or all week. We will day sail -- you know, FUN sail -- with some beverages and no "planned" race, the way you sailed when you were a kid or before you really became serious about it.
The idea is to sail on Glen Lake at least two days and then sail on Torch and/or Elk for one or two more days. Of course, it's your vacation so you may want to just sail on Glen, but we want to give folks the option, weather dependent, to travel to another nearby stunning Caribbean colored lake.
There will be two non-sailing days for other activities. Right next door to Glen Lake is the Sleeping Bear Dunes National Seashore with the big sand dunes that overlook Lake Michigan. There is hiking and biking close by. A canoe trip down the crystal-clear waters of the Platte River for a few hours is also planned. Tours of wineries and in-town shopping will complete the trip. Lots of non-sailing activities are nearby so we will set aside two days for exploring.
A sample itinerary might look something like this depending on the weather and wind forecast:
Friday and Saturday: Arrival with rig up and then a causal sail on Glen Lake. A welcoming BBQ dinner Saturday evening.
Sunday: More casual sailing on Glen Lake with a wine and cheese gathering on the sand bar. Let's have a fish dinner (Lake Michigan whitefish?) that evening overlooking the lake with fire pit appropriate beverages.
Monday: Let's go kayaking in the morning and then to the Sleeping Bear Dunes National Park that afternoon/evening for hiking and the sunset.
Tuesday: We'll sail on either Torch or Elk.
Wednesday: Explore Sleeping Bear Park by either biking or driving through the countryside with a visit to a winery. Shop and eat out that night.
Thursday: Final day to sail; we'll pick our lake.
Friday: Pack up and return home
When: September 3 -10, 2021 -- or possibly a week earlier or later, as rentals are in high demand and will determine the dates. Limit on occupancy is eight (8). If there are more people interested, then we will secure another rental nearby. 
Cost:  Lodging – about $650 to $750 per person. Food -- we will figure that out as we go.
Contact for Further Details and to Reserve Your Spot: Willson Jenkins, e-mail: jjattorneys@aol.com or (256) 710-0135.