2017 NAC at Sandusky Sailing Club, Sandusky, OH - Day 1 of Finals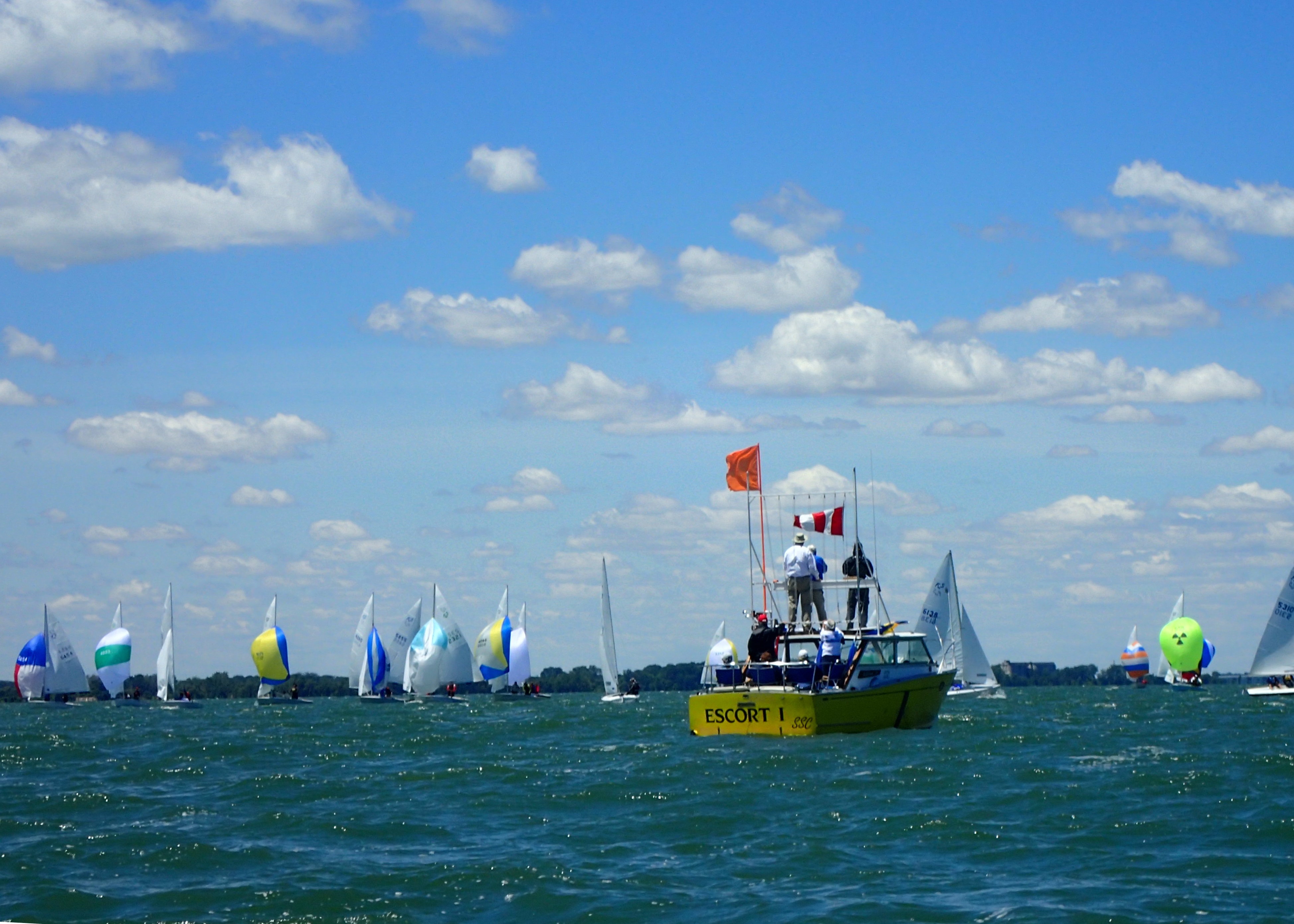 The Championship Division coming down to the gates while the Challenger Division is under postponement
We weren't sure on the way to the racecourse where it was pretty windy and gusty whether today would mirror yesterday.  But we had a kinder and gentler Sandusky Bay with NNW winds 12-16 in the first race and 10-14 in the second race. The sun stayed out with just a few clouds in a sea of blue and the temperatures in the 70's, so it was warm enough if you dressed for the spray you were taking over the bow.  Jim Tichenor and the RC held 2 W-L 4 leg races, with each taking over an hour to race, so nice long races.  A wind shift on the start resulted in a general recall for the Championship Division that slowed things down a bit for the first race, but things were pretty smooth after that.  A few boats were OCS in Championship and a few in Challenger, but most everyone behaved,  Later on a wind shift caused the Challenger Division under postponement while the Championship Division came down to the leeward gates.
WIth the wind shifting and going from light to medium to heavy, it was extremely important to catch the shifts right from the start and throughout the racecourse.  We saw boats go from 2nd or 4rd to 9th or 10th after missing a shift.  And watching for where the pressure was, gave some boats an advantage over those who could not, or did not, do that.  The RC did a great job and everyone I talked to said they had fun.  All in all a wonderful day on the water. 
Championship Division leaders are: (1)  Jeff and Amy Smith Linton, (2) Tyler and Carrie Andrews and (3) Brian and Brian Hayes.
Challenger Division leaders ar (1) Ryan Malmgren and Stacey Rieu, (2) Melanie and Bill Dunham and (3) Michael Mandell and Dave Lauser, Jr.
Full results are here.