2017 Indy Regatta - Eagle Creek Sailing Club, Indianapolis, IN
Flying Scot Fleet 201 hosted the 2017 Indy Regatta on Jun 10-22 at Eagle Creek Sailing Club, on Eagle Creek Reservoir in Indianapolis.  If you were'nt there, you might have missed some pretty great racing according to some posts on Facebook.  The weatehre was great! Saturday  eatured clear skies and winds SW at 15 mph with gusts to 25 mph with 4 W/L races completed.  Sunday also had clear skies, and less wind S at 12 mph with gusts to 18 and 2 W/L races.
From Sheila Krout:
Kitchen Sink III Crew was incredible to watch: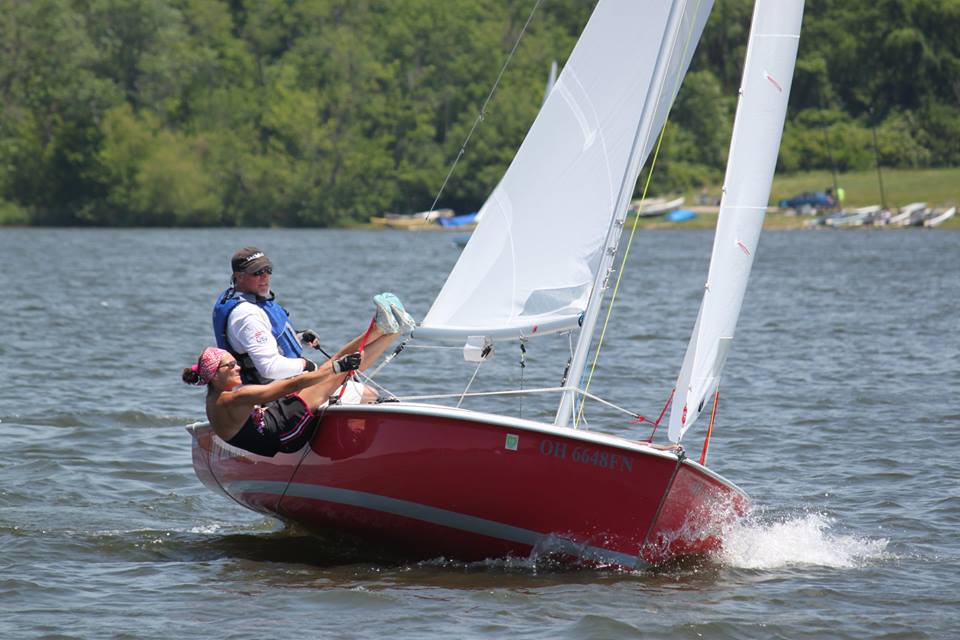 Picture by Sheila Krout
Lots more of Sheila's picture here:
Full results here
From Rich Fox:
Many thanks to all the Club members who helped out on the Race Committee boats for the Flying Scot Regatta, including - Janet Hickok, Bob Hickok, Kenny Chapman, Nan Schulze, Dave Dyer, Stan Kroh, Sheila Krout, Tom Newgent (Spotter), Les Miller. We ran six races for 12 Flying Scots, out of which 10 boats were from out-of-state. Thank you for giving up a good part of your weekend to help ECSC put on a great regatta for some of the top Flying Scot sailors in the country! After each day of racing, we enjoyed the excellent hospitality that was organized by Geoff and Myra Endris, and Nick Mates and Jackie.
If any Flying Scot sailors says they are NOT sore from this weekend's regatta...they are probably not telling you the truth. We tried to make sure they go their money's worth of racing!