2015 Glow in the Dark - Clinton Lake Sailing Association, IL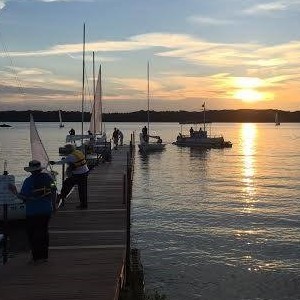 File photo from CLSA website
Lots of Boats, Plenty of Wind by Deb Aronson
We had another wildly successful (if I do say so myself) Glow in the Dark this past weekend. With 26 boats registered, we beat our all time record by one boat, and everyone came ready to have a good time. This year we had mostly boats from our district, except for Mark and Maria Benner, who came from Moraine Sailing Club (outside Pittsburgh), Bruce and Lynn Kitchen from Cowan Lake (Ohio), and Carrie and Tyler Andrews, who came from Deep Creek in western Maryland. We also had Chuck and Denise Hollman, from Delavan Sailing Club in Wisconsin. Even though they are in our district, we have not seen many Delavan sailors over the last few years, so that was wonderful to have them here!!
Unfortunately, Luther and Deb Torgerson, from Madison, who have NEVER missed a Glow had to stay home this year because of an emergency (now mostly fixed) surgery. Even though they couldn't come, they still sent a six-foot long cooler full of Madison beer for the event. Thank you Deb and Luther! We missed you!
We had Goldilocks conditions this year; two years ago we had too much wind (cancelled Saturday races), last year we had too little wind (couldn't sail Sunday) and this year it was just right! Saturday was maybe a bit hefty, with winds topping out at 18 and some gusty conditions out of the east/northeast (unusual direction).  Sunday was about 6-8 and was very civilized, and we got all five scheduled races in.
Race committee, headed by the very able and patient Dan Goldberg (also from Moraine Sailing Club) ran three WL races on Saturday. The first two were five legs each. After the second race Dan took a partial poll of the racers: should we do another five-legs or a three-legs? I think most people he checked with must have said "three" because that's what he ran for the final race of the day. Thank goodness! There was enough fun on the water to make it exhausting, and I heard several skippers later talking about cramping forearms. I also noticed that all the bananas got eaten this year! Coincidence? I think not!
Anyway, everyone stayed upright, though there were a few breakdowns: one mast came down due to a missing pin on a sidestay; one sailor got hit in the head by an uncontrolled gybe so hard that he got towed in (he was okay to sail the next day); and one vang broke but was jury-rigged by the third race.
Racing was really competitive throughout the fleet and by the end of Saturday many boats were separated by only a point or two.  The top six boats were separated by only 8 points. Those sailors were: Ben Williams, Ryan Malmgren, Bruce Kitchen, Mike Faugust, Frank Gerry and Bronson Bowling.
Once we all pulled our boats we started the grill for the annual steak cookout. Our primo grill master, Chris Tesdal, was ably assisted by Bronson (our new district governor and all around good guy). Heather Johnson, a new member of our club, helped big time this year by making all the desserts and the green salad.  We also had potato salad and a corn bean salad, so no one went hungry. Both nights someone, I never saw who, started up the bonfire and we all relaxed around its glow. It was perfect camping weather, with the temperatures dropping into the 50s. A few Scots sailors went out with Rick Langlois and Perry Biddle (CLSA club members) on a cabin boat and enjoyed the lake in the calm of the night. It was cloudy, so I'm not sure if they could enjoy the full moon, by then I had collapsed in my tent!
The next morning it was up at sunrise to make the coffee and start on the hot breakfast, another great Glow tradition. Once again, tons of people stepped up to crack eggs, cook and cut up steak, chop onions, cube potatoes. I didn't think these sailors were much for breakfast, but they descended on the feast like locusts and within minutes everyone had a full-ish stomach and the food was gone, gone, gone!
Time for more fun on the water: Even though the start was scheduled for 10 a.m., it took a bit of time for all the boats to come out and the start was postponed for maybe 15 minutes.  The wind was much calmer and a little patchy, but really pretty darn good. It had also clocked a little more southerly so Ben and I decided we liked the right side. We separated quite a bit from the pack by going this way the first race and we were pretty nervous about it, but by the time we got close to the windward mark we could tell it had paid off for us. We rounded near the front of the fleet. We stayed to the right the second and third upwind legs as well, and finished second behind Bill Vogler and Jack McClurkin who found some private wind in the middle of the course and pulled ahead of everyone. After that race, Ryan, Mike and Bruce were all tied for second with 14 points. Ben and I had 10.
That felt like a pretty good cushion. All we had to do was not tank the final race….. Well, you know how this ends!! The first start of the last race we were absolutely buried with nowhere to go. The wind had died, we had no boat speed and we were stuck. Thankfully we heard two horns and looked up to see the general recall. Praise be!! Okay, that was it, Ben had a plan, he was going to redeem himself and he did. The next start we were at the pin with speed and got off the line perfectly. But…what was that?! ANOTHER general recall?! What the heck!! GRRr GRRRR, this time the two horns was not such a welcome sound (especially when it turned out the race committee had meant to only sound one horn, for individual! But no matter, these things happen.).
Okay, third time's the charm. Let's get it going! Once again Ben lines up at the pin, we had good speed, the horn goes off, and … we get caught in the ugliest snarl I have ever witnessed! The way I saw it, a boat came in on port and tried to muscle in where there had to have been at least 5 boats on starboard. We all got so wedged together no one could move!! One sailor's tiller got stuck in another's side stay, boats knocked together like so many ducks in a pond. It was epic. Meanwhile, although some of the boats we had to keep track of also got stuck in the mess, a few did not and kazowee, there they went off the line, neat and clean. I heard later that a similar, though not quite as bad, snarl took place at the boat end. It's kind of like the grand finale at a fireworks show….but the only colorful thing was the language!
Okay, we had five legs to at least catch up enough that we didn't lose our four-point lead. That meant Ryan, Mike and Bruce could beat us, but not by too much! Ben shook off the chaotic start, tacked us away and got us going. We slowly worked our way through the fleet, tack by tack. It did seem like this weekend the wind gods were with us. Every time we tacked we were beautifully lifted! It does not always happen like that and I never ever take that for granted.
Long story short, we managed a fifth place finish, with Tyler and Carrie finishing first, Ryan and Stacey second, the Faugusts third, Bill Vogler and Jack McClurkin in fourth.
Final top five standings: Ben Williams Ryan Malmgren Mike Faugust Bruce Kitchen Tyler Andrews
Full results are here.