2016 Scots on the Rocks - Lake Murray Sailing Club - Chapin, SC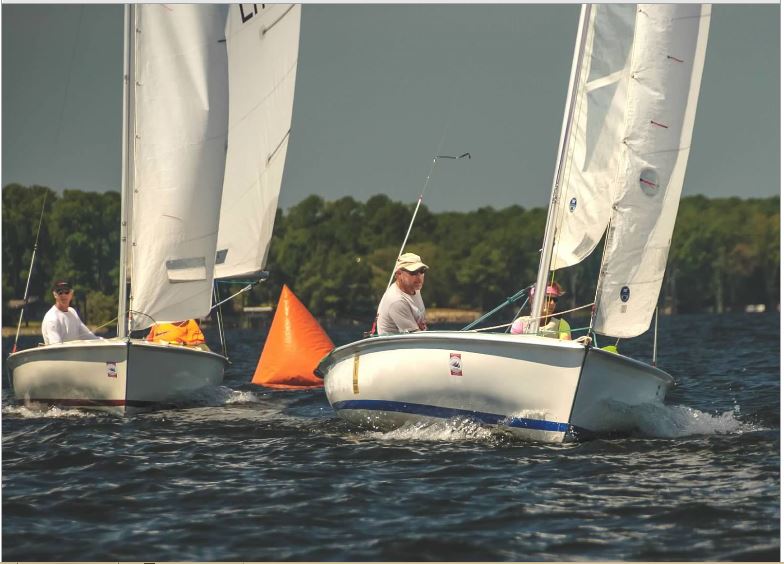 Fourteen hardy competitors braved Hermine's stormy prospects to ultimately enjoy sunny skies, cool temperatures, and enough breeze to sail 5 races over our annual labor day weekend Scots on the Rocks regatta. Although Saturday's racing was initially postponed for about 45 minutes of calm, a southerly breeze filled in nicely and the fleet was off at about 1:45 pm. With two great races in the bag, the Race Committee shortened the course to squeak in race 3 on rapidly lowering pressure backing from the east.
Robert & Nina Cummings from Dallas dominated Day 1 racing with 1-1-3 finishes for 5 points. In close competition for 2nd was John Kriedler from Greenville, with LMSC youth crew Jacob Dixon, earning 7 points. At the end of three, our own Willie & Tammy Liddicoat were tied for 3rd place with Mark & Michele from Tampa with 9 points each. Close competition all round.
Day 2 racing continued Sunday with easterly winds challenging the fleet to stay in variable pressure and catch some fairly rapid shifts. Mark & Michele swept Sunday's competition with two bullets and a solid win for the regatta. Robert and Nina hung on with a 3-2 finish to tie with John and Jacob at 13 points. The Cummings two firsts on Saturday was the tie breaker that awarded them 2nd for the series, moving John and Jacob to 3rd. Had the the Liddicoats been able to compete on Sunday, there would have been a "dog fight" for the top three spots. Lynn and Bill Bruss from Lookout Mountain, Georgia, captured hardware for 5th place with some very consistent sailing and LMSC stalwarts John & Kaaren Rue stormed back with 2-3 finishes on Day 2 to capture the 4th place trophy. Full results are here.
We were pleased and privileged to have Bill Walter and Annette Gardner, new LMSC members and new to sailing, compete in their first ever regatta. We were also very happy to have LMSC members Frank & Lynn McKinnon and Ivan Lopatin, with crew Tom Berens, sailing the Flying Scot competitively for the first time.
To those who weren't directly impacted by Hermine, who thumbed their noses at the nattering weather oracles to go sailing, and who traveled from afar, we salute you! Thanks for the great competition and camaraderie.
Flying Scot sailing . . .It doesn't get any better!