US Sailing Arthur B. Hanson Rescue Medal for ACC rescuers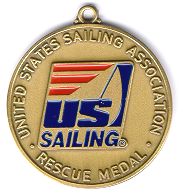 The Hanson Safety at Sea committee has voted to award the US Sailing Arthur B. Hanson Rescue Medal to the seven boats who recovered people out of the water during the FS ACC storm and subsequent recovery efforts.

Mauntauk 17 rescued 4 (Eddy Parker & Richard Schott)
Aquasport 19 rescued at least 5 (Ken Gurganus & Jeff Thomas)
Triumph 17 rescued 1 (Dave Brown, Polly Brown, & Joe Gormley)
Weather boat rescued 4 (Jim Zaradka & Mark Brennesholtz)
The Big Parker rescued 3 (Roger Brake & Eric Rasmussen)
17' Key West rescued 4 (Skip Byrum & Gus)
Sea Hunt 235 rescued 2 (Malcolm Shaffer, Robin Shaffer, Charlie Marr)
Also providing assistance were Flying Scot sailors Dave Neff and Gabe Hermans and Jason Hairf who took to the water to assist boats get righted and the boat ready and towed in.
From the US Sailing website - about this award:
"This award is given to skippers of boats or race support vessels who effect rescues of victims from the water. The award is made for rescues in U.S. waters, or those which occur in races originating or terminating in a U.S. port. The purposes of the award are to recognize the significant accomplishment in seamanship which has saved a life, and to collect further case studies in rescues for analysis for the US Sailing Safety at Sea Committee which will eventually be incorporated into the extensive educational programs of US Sailing"