2015 Buckeye Regatta - Hoover Sailing Club, Westerville, OH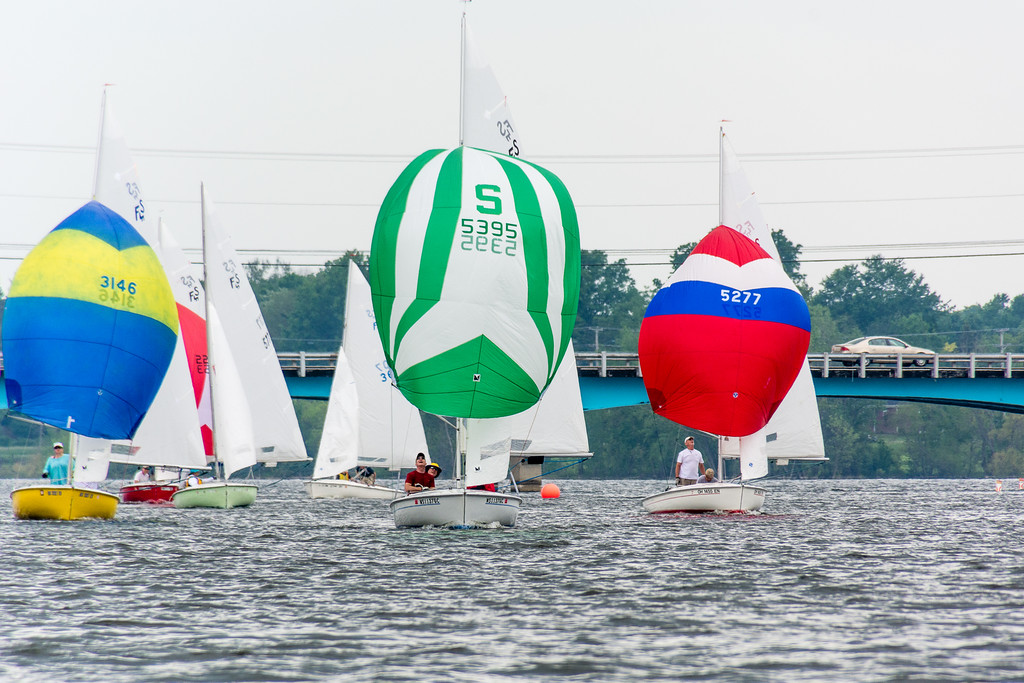 - photo by Lisa Kreischer
The Flying Scot Buckeye Regatta was sailed May 16-17 at HSC with 17 boats, a high for recent years. The weather gods were not cooperative but the sailors were intrepid and raced three races in pouring rain on Saturday. At 5:00PM hot showers were more popular than the appetizers.
There were 9 off-the-lake boats unless you count HSC former Commodore Jim Cottle's brother in law, Jack Markwick from Illinois, as a Hoover Boat since his crew were Jim and HSC Interlake sailor Alan Freeland. Ohio district clubs represented included Cowan Lake, Berlin and Deep Creek. While the hardware left the lake, Hoover comported itself well with Ray and Scott Trask coming in fourth and Stephanie Bahr and Marty Sweterlitsch at seventh. Scott, age 16, grew up in the fleet literally and is a champion Opti sailor who crews for his dad, Ray. Sandy Phalen skippered her first regatta and gave us more to celebrate.
Greg Shafer, the Fleet Captain from Deep Creek, and Mark Shaefer ( no relation) took first place followed by Bruce and Lynn Kitchen from Cowan Lake and FSSA President Frank Gerry and wife Marianne from Clinton Lake, Illinois. As usual Fleet 37 threw a good party with prize winning lasagna prepared by Karen DeLong for dinner.
Full results are here.
More phots by Lisa Kreischer are here