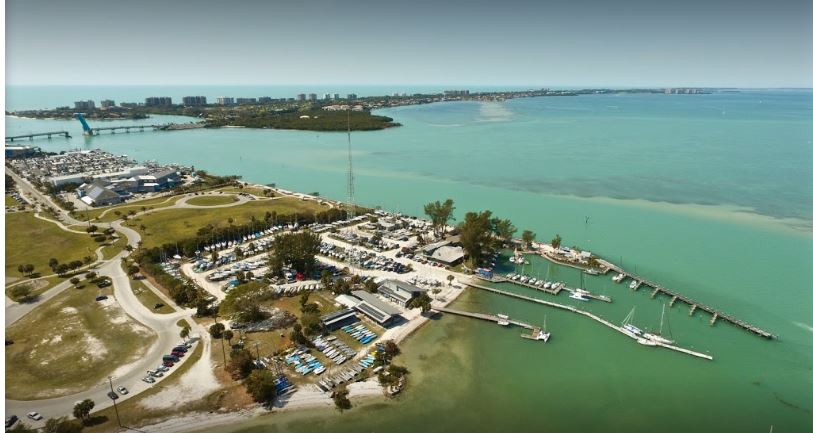 It's going to be another wonderful Flying Scot Midwinter Championships at the Sarasota Sailing Squadron. Save the dates – March 23-27, 2019. Great racing in a great place!
You'll find the NOR and online registration at http://www.regattanetwork.com/event/17735#_home. Early registration and measurement also is available at the Sarasota Sailing Squadron March 22 from 5-7 pm by appointment only. Call Ron Pletsch at 941-704-1572 to reserve your spot.
Sarasota Bay is a spectacular sailing venue, and Sarasota is pretty spectacular, too. Spend a few days before or after the races to savor Sarasota. For a sample of what you'll find, go to:
For some of our favorites, check out ATTRACTIONS and DINING CHOICES, below:
ATTRACTIONS
Here are some best bets:
Beaches!
Sarasota is famous for its soft white sand beaches. Siesta Beach, about 20 minutes south of the Squadron, repeatedly ranks among the best the country. Lido beaches – North and South – are minutes from the club. To the north are Longboat Key and Anna Maria Island. Beyond Siesta are Venice Beach and Manasota Key – both famous for shark teeth which wash up on shore.
Theater, Music and Arts
More shows and events than you could ever attend. Go to heraldtribune.com/ticket for all the action.
Mote Marine
1600 Ken Thompson Parkway, Sarasota, (941) 388-4441. Just a brief walk down the road from the club. Pet stingrays, see the manatees, and watch sea turtles in this working marine research facility.
St Armands Circle
Five minutes from the Squadron on St. Armands Key, this upscale collection of boutique shops, galleries and restaurants surrounding a lovely park is the perfect place to while away an hour, or a whole day. Don't miss the plaques celebrating Sarasota's circus heritage which line the walkway around the park.
Ringling Estate
5401 Bay Shore Rd, Sarasota, (941) 359-5700. Circus magnate John Ringling's fabulous Bayfront home, Ca' d'Zan, its spectacular grounds, his magnificent art museum and an astounding history exhibition showcase Sarasota's circus legacy. Take the "Private Tour" of the home, featuring a secret floor not visible from the outside and Ringling's Prohibition-era wine cellar.
Jungle Gardens
3701 Bay Shore Rd, Sarasota, (941) 355-5305. See the gators, feed the flamingos from the palm of your hand, walk the gardens. A great place to go if you are a kid – or not.
Ed Smith Stadium
2700 12th St, Sarasota, (941) 893-6300. Spring training home of the Baltimore Orioles.
LECOM Park, formerly McKechnie Field
1611 9th St W, Bradenton, (941) 747-3031. Spring training home of the Pittsburgh Pirates.
DINING CHOICES
You could go to a different restaurant in Sarasota every day for a year and not hit them all. Google "Sarasota restaurants" and have at it. Here are some close to the Squadron, plus two of iconic establishments further afield:
St Armands Circle
This nearby shopping hub is home to scads of restaurants including Tommy Bahama, (941) 388-2888; Daiquiri Deck, (941) 388-3325; Shore, (941) 296-0301; Crab and Fin, (941) 388-3964; Venezia Italian Restaurant, (941) 388-1400; Columbia Restaurant, (941) 388-3987 and many others.
Old Salty Dog
1601 Ken Thompson Parkway, Sarasota, (941) 388-4311. A short walk down the road from the club, this popular spot with mostly open air seating is known for its fresh fish sandwiches – and a first-rate view.
New Pass Grill & Bait Shop
1505 Ken Thompson Parkway, Sarasota, (941) 388-3050. Past Old Salty Dog by New Pass bridge. Kitchy 1929 tackle shop serving breakfast, subs, burgers, fish & chips and grouper sandwiches. Great value.
Dry Dock Waterfront Grill
412 Gulf of Mexico Drive, Longboat Key, (941) 383-0102. Five minutes from the club. Sit indoors or out. It's the best place for non-sailors to sit and enjoy a view of the racing.
Star Fish Company
12306 46th Avenue West, Cortez, (941) 794-1243. Like a place that time forgot, this fish market has a restaurant on the back deck. Eat your fish fresh from a cardboard box atop one of the picnic tables as the workers unload the catch of the day. Flip flops preferred!
Phillippi Creek Oyster Bar
5353 South Tamiami Trail, Sarasota, (941) 925-4444. Shucking and serving since 1604, according to the menu.
Many more to be had in Downtown Sarasota and in Siesta Key Village, right off America's best beach!